---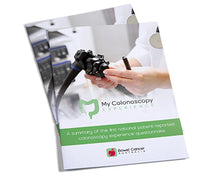 My Colonoscopy Experience (download only)
A download link will be emailed after check out.
Bowel Cancer Australia believes the patient experience must be the cornerstone of patient-centred colonoscopy care.
Leading the way, Bowel Cancer Australia developed the My Colonoscopy Experience questionnaire, a nationwide, user friendly questionnaire that can be
completed anonymously online.
Respondents are encouraged to share their experience related to colonoscopy referral, pre-admission, care and treatment, interaction with staff, discharge from care and any post-procedural issues.
The questionnaire was released in 2018 at the same time as the Colonoscopy Clinical Care Standard, created by the Australian Commission on Safety and Quality in Health Care (ACSQHC).
Results from the My Colonoscopy Experience questionnaire will help shape Bowel Cancer Australia's activities as they relate to the colonoscopy experience - championing what matters most to patients.